CLIMATE EMERGENCY: THE BIG CHALLENGE
Climate change is the main challenge for the future of life on the planet
What is climate change and how does it affect you?
The rise in temperature, aggravated by human action, has a negative impact on the lives of people, ecosystems and the economy. Sea levels rise, oceans warm, desertification damages crops and water scarcity worsens expectations of progress in the most disadvantaged regions, among other effects, all interconnected.
Climate change is the main challenge to the future of life on this planet as we conceive it today. CO2 emissions have increased by about 50% since 1990, thus contributing to the global temperature rise and jeopardizing the Paris Agreement's goal of keeping global warming below 2°C.
How to avoid climate change?
In this video we will address from an objective and scientific point of view what climate change is, what its causes are, its consequences and how it can be combated. In short, how climate change affects us.
The climate emergency, our priority
ACCIONA places the fight against climate change and its consequences at the top of its priority list. The organization's determination to continue to lead the transition to a carbon-neutral economy from the private sector results in establishing a different way of doing business. An approach that prioritizes the reduction of greenhouse gas emissions to contribute to the progress of society and protection of the planet, supported by the pillars of energy, water and infrastructure.
The Business as Unusual label, which permeates every layer of activity at ACCIONA, is also reflected in one of the most important milestones reached by the company in recent years: carbon neutrality. ACCIONA achieved this goal in 2016, being a pioneer in all its sectors and one of the world's first companies to become carbon neutral, thanks to energy efficiency measures, purchase of renewable energy sources and voluntary offsetting of 100% of the emissions generated that could not be reduced, with the purchase of emission reduction certificates.
Our figures back us up
100 %
offsetted emissions. We are carbon neutral
13.1
M tons of CO2 avoided by renewable generation
519 Hm3
of treated water in water-stressed regions
69 %
EBITDA derives from what UNEP defines as 'Green Economy'
90 %
Revenue certified with ISO 14001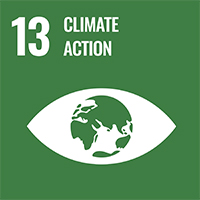 WHAT IS CLIMATE CHANGE AND HOW DOES IT AFFECT YOU?
If you want to know more about the climate emergency, we tell you about its causes, consequences and how we can fight global warming and adapt to the changes.