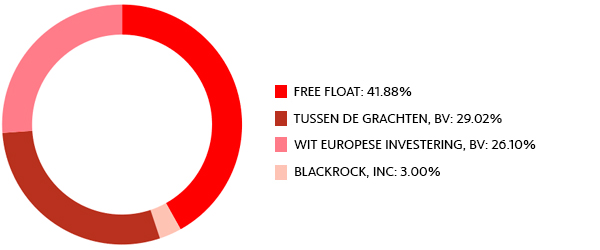 The capital stock consists of 54,856,653 fully paid common shares of €1 par value each, all with the same rights, and traded by the book-entry system.
There are no bylaw restrictions on the transfer of the shares, all of which are listed on the Stock Exchange of Madrid and Barcelona.
SHAREHOLDER AGREEMENTS
The Company communicates the Shareholder Agreement, relating to shares of ACCIONA, S.A., entered into by ACCIONA significant shareholders. The Agreement was communicated to the
CNMV
(Spanish Stock Markets Agency) as a Significant Event on 15/07/2011 (registration No.
147698
 y 
261036
, respectively) and filed at the
Mercantile Registry
.
Evolution of the Capital Stock
| Year | Shares outstanding | Capital Social (miles de €) | Nominal value per share (€) |
| --- | --- | --- | --- |
| | | | |
| | | | |
| | | | |
| | | | |
| | | | |
| | | | |
| | | | |
| | | | |
Director's holdings
| Shareholders of Board of Directors | Direct Holding (%) | Indirect Holding (%) | Total (%) | Date announced | Acquisition in the event of exercise | Date announced |
| --- | --- | --- | --- | --- | --- | --- |
| | | | | | | |
| Entrecanales Domecq, Daniel | | | | | | |
| Entrecanales Domecq, José Manuel | | | | | | |
| Entrecanales Franco, Javier | | | | | | |
| Entrecanales Franco, Javier | | | | | | |
| Sainz de Vicuña Bemberg, Ana | | | | | | |
| Gerard Rivero, Jerónimo Marcos | | | | | | |
| Villalonga Morenés, Belén | | | | | | |
| Figueres Olsen, Karen Christiana | | | | | | |
| Garay Ibargaray, Juan Carlos | | | | | | |
| Sendagorta Gómez del Campillo, Javier | | | | | | |
| Pacheco Guardiola, José María | | | | | | |
Treasury stock
| % with right to direct vote | % with right to vote indirectly | Total % of rights to vote |
| --- | --- | --- |
| | | |